Friday, 30. April 2010 10:26
It's the same online and offline. If you want people to help you out with market research or insights, you'll get more (and more engaged) responses if you offer them something of real value.
Cheap as chips
I recently visited a website and was interrupted by a pop-up asking if I wanted to take part in a 10-minute survey. I'd go in a draw to win an iPod.
No. I don't really.
First – of course – I probably wouldn't win the iPod. Second, I actually own an mp3 player. You can buy them now for about $10. And third, what a bunch of cheapskates! [I did appreciate being told up-front that it would take 10 minutes, though. Points for that, at least.]
I might have done the survey if they'd offered a night away as their prize. Or a car.
Real rewards
A couple of months ago, I got a survey enclosed in my electricity bill. 5 questions. If I answered them and sent it back inside a fortnight, they'd knock $10 off my next bill.
Did I do the survey? You bet I did. Took a minute. There was a postage-paid reply envelope. Too easy. Happy to help.
Money for nothing?
So whether you're offering a prize or an up-front reward, make sure you're not just taking your web visitors (or real-world visitors) for granted. Doing real market research costs money. If you want to involve your users or community, don't take the piss. You can still get a cheap deal, but offering the slimmest of chances of winning a $150 music player doesn't really cut it.
Got an in-store competition? That's great! But the same rules apply. Make the prize worth it.
Not like this in-store window display that I saw recently… Is there anything sadder than a sad bear offered as a prize to kids with lice and nits?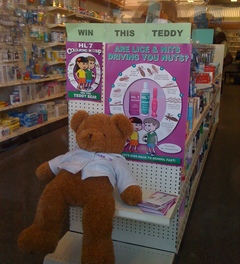 Thema: Being good, User focus | Kommentare (1) | Author: John